Last day of spring
Tomorrow is the first day of summer. We seemed to have by-passed spring this year. We went from hail/ice/snow right into 80+ degree weather. And let's not forget the humidity.
We sat out on the deck last night while the kids raced around the backyard catching lightning bugs. I tell ya - you haven't laughed until you watched twin 3 year old boys accomplish this task! It would have been a great time for the video camera - but it wasn't charged (as usual).
I realized I never updated the blog in regard to Jeff's vein surgery. It was postponed.
His next appt is the first week in July. He is seeing another specialist. I will let you know the outcome.
I hope my sister doesn't mind me sharing this picture? Their faces aren't showing..so I think it will be okay. These are my nephews - big D and little J.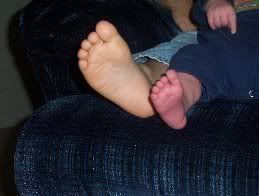 Is there anything more precious than little feet (and itty bitty tiny feet)? :: sigh ::
I hope all the dad's out there had a wonderful day yesterday?!
Blessings,