Cookie Central
Yesterday was spent making cookies. Lots and lots of cookies. We made thumbprints, snowballs, gingerbread, sugar and biscotti. Yum!
Here is a before picture of the sugar cookies, waiting to be decorated by the kids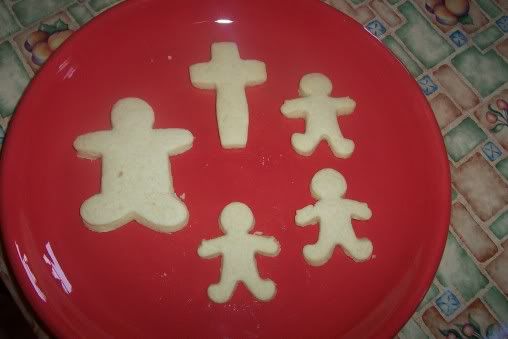 This is an after picture. Notice one of the little cookies is missing? He was enjoyed by one of the boys.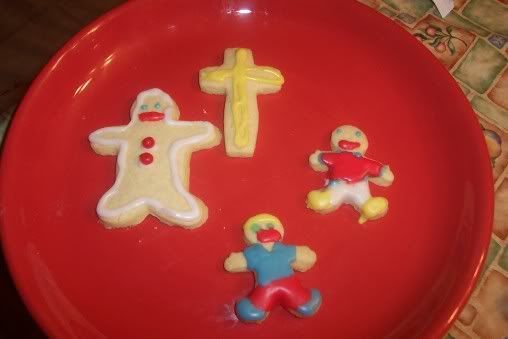 And, the sugar cookies, nestled in my favorite cookie jar. Isn't it cute?!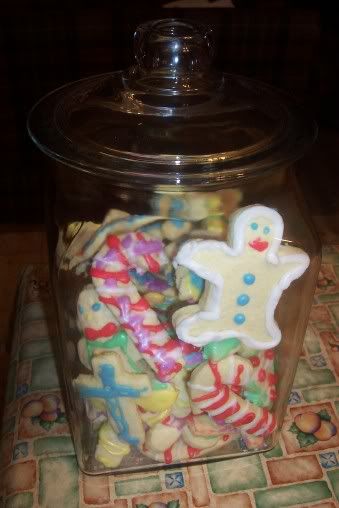 And now, the recipe. I received this easy, tasty, foolproof recipe from my friend, Nancy B. Give them a try. You won't be disappointed. Plus! The dough doesn't need to be refrigerated, a big bonus when cooking with kids.
Nancy's Cut-Outs
3 cups of flour
1/2 tsp. baking powder
1/2 tsp. baking soda
1 cup margarine
2 eggs - beaten
1 cup sugar
Mix flour, baking powder and baking soda. Cut in margarine (think pie crust). In another bowl, mix the eggs and sugar. Mix to flour. Blend. Roll out and cut with cookie cutters. Bake at 350 on second rack from top for 6-8 minutes.