Gingerbread goodies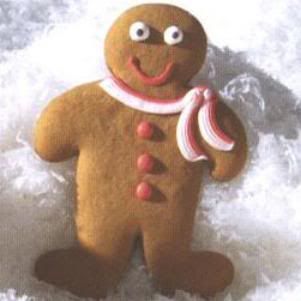 I wanted to share a tasty gingerbread cookie recipe.
This is an easy recipe to work with and makes LOTS of cookies. Enjoy.
Ginger Cookies
by: Kim R.
1 cup butter (don't even think about using margarine)
1 cup sugar
1 cup molasses
1 cup boiling water
1 tsp. soda
2 tsp. cinnamon
1 tsp. ginger
1/4 tsp. allspice
1/4 tsp. cloves
5 cups of flour (yes, 5 cups)
Cream butter and sugar - add molasses and boiling water with soda added. Mix dry ingredients together and stir into the creamed mixture. Roll into ball and refrigerate for at least 3 hours (overnight is best). Roll out and cut with shapes. Bake at 375 for 7 minutes.
Frosting
1 egg white beaten stiff -- add 1 cup of powdered sugar, 1 TBS water and 1/2 tsp. vanilla