Back from the wild
The retreat was fabulous. There were 17 of us in attendance and we laughed, cried (a lot), ate, played, rested and crafted. We see one another weekly at our co-op functions. Some of the ladies have known one another for 10+ years. This retreat brought rest, but it also allowed restoration. There were a lot of prayer requests, stories, and loving hugs. I am so blessed to have these ladies in my life. They are true friends and super prayer warriors! God's presence was everywhere this weekend.
A few pictures, but first an explanation. The original owner of the camp was a game hunter long ago (when it was still allowed). The camp has a Creation theme, with an emphasis on Noah's Ark. Youth groups from all over the Midwest come to the camp through the year for fellowship, fun and training. The owner has his "trophies" on display at the camp.
This is over the main entrance. You can see a bear, monkey, giraffe, ostrich, lion and various other animals.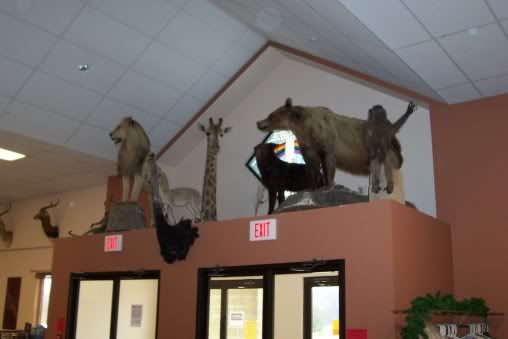 This is in the corner of the main lobby. It is a working water attraction. The hippo was incredible looking.

This is the main fireplace area. We spent most of our time here, chatting away the hours. We nicknamed the moose, "Frank" and the bear is "Gus." It was so warm and inviting in this area. A few ladies chose to sleep out there instead of the bunk room (Yeh, that was funny! All of us grown women bunking together in the same room.....no one slept!)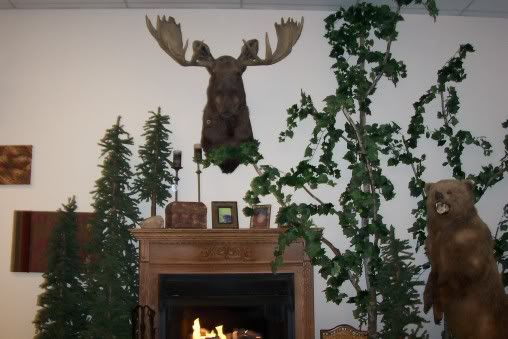 This is on the wall when you enter the building. That elephant is impressive! They placed the head at the exact height of the living animal. For some of the kids that visit the camp, this is the closest they will ever come to seeing animals like this.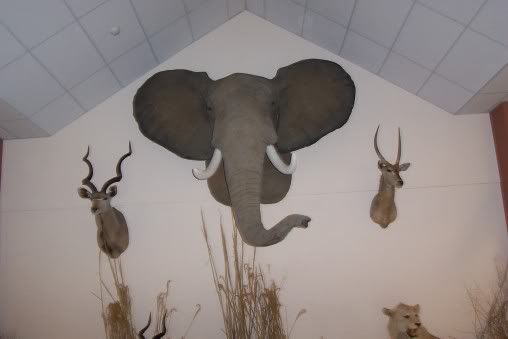 This was in back of the lodge. It is a replica of Noah's ark, to 1/4 scale. It is massive as is...imagine it 4xs bigger!! There are 2 classrooms in the ark for Bible study.

Have a great day!
K.