The city can thank us now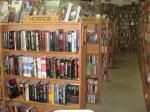 It should be known that our family helped fund the new library in town. No. Not by charitable giving (though that would be nice) but by late book fees.
Oh my goodness. ::: hanging my head in shame :::
A few dollars here and there happens from time to time. However, something happened over the holidays that screwed up my system. What a mess.
I just paid our hefty fines (no, I won't share how much) with a red face. The librarian was so sweet. She says it happens all the time -- especially with homeschool families. :: gulp ::
So, anyway -- if you are ever in the area and visit one of our fine libraries -- you can thank us for our support. I *know we purchased several of the books you may be checking out.