Family-night
I love our Friday evenings.
Tonight, we will watch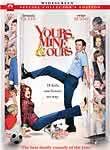 Dennis Quaid
and
Rene Russo
take on the roles made famous by Henry Fonda and Lucille Ball in this remake of the 1968 comedy about two single parents who plan to marry and merge their broods into one "happy" family. But when the Coast Guard admiral and father of eight (Quaid) and the handbag designer with 10 tykes (Russo) prepare to wed, their collective progeny attempt to sabotage the union.
The above is a remake of a classic by the same name, starring Lucille Ball and Henry Fonda. Personally, I like the charm of the original better -- but the remake is fun just the same (we saw it on Thanksgiving Day).
From the original:
Forget the SUV, this family needs a school bus. Widow Helen North (
Lucille Ball
) marries widower Frank Beardsley (
Henry Fonda
), a union that results in a grand total of 18 children. Household chaos ensues as they all learn to share the same space, and when flu season hits, the family doctor (
Tom Bosley
) finds himself a very busy man. Just as things begin to settle down, Helen finds out they'll need to make room for one more at the dinner table. …
.
Off to finish the laundry, sweep the den and help the kids with history lessons. Have a blessed day.