Thoughtful friends are the best friends
We were blessed with a surprise box in the mail today! We call those "Happy Mail" days.
This package of goodies arrived all the way from Japan, from my best friend, Gina. We have known one another since junior high. You name, we have been through it. Heck, we even had four daughters (each) in pretty consecutive order! I don't think of Gina as a friend, I think of her as a sister. I am blessed. Despite our far away distance (Air Force) -- we still manage to stay close with emails and prayers.
Back to the goodies. Not only did she bless me, but she blessed my babies! That is a friend for sure! Cookies, candy, Hello Kitty pasta, chopsticks, glow bracelets, toy microphones, origami paper and stationary. In the words of my son, Jake, "This is so very cool."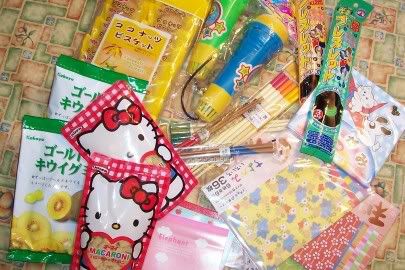 Lord, thank you for, Gina. Thank you for her heart, prayers and laughter. I am a better person because of her friendship. Bless her home, family and walk, Lord. ~Amen