Sunday cooking
I love Sundays for lots of reasons. Church. Relaxation. Cuddling on the couch with hubby. Movies. Cooking. Lots of cooking!

This morning I made a family favorite, German Apple Pancake.
This hearty meal can be served for breakfast, lunch or dinner! Couple it with ham slices and a fruit salad, and you have a great brunch dish too!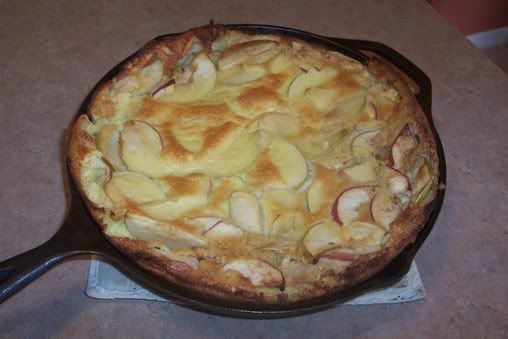 German Apple Pancake
3 large cooking apples (I like to use a combo of Granny Smith and Gala)
1/2 stick of butter (no subsitute)
1 cup flour
1 cup milk
6 eggs
1 tsp vanilla
1/2 tsp salt
1/4 tsp ground nutmeg
1/4 tsp cinnamon
Preheat oven to 475 degrees. If desired, peel the apples. Core and thinly slice the apples. You should have about 2 cups. Melt 2 TBS of butter over medium heat in a small pan, and cook apples until just tender - about 3 minutes. Keep warm while preparing batter. Place a 10 inch cast iron skillet or very heavy ovenproof pan in the oven for 7 minutes -- the pan has to be very hot for this recipe to work. When it is well heated, add the remining 2 TBS butter to melt and put skillet back in the oven.
While the skillet is heating, place flour, milk, eggs, vanilla, salt, nutmeg and cinnamon in a blender. Blend until smooth (you can also use a rotary beater). Remove the skillet from the oven, quickly arrange the apples over the butter, and pour the batter evenly over the apples. Bake for 15 minutes then reduce heat to 375 and bake 10 more minutes. The pancake will puff and climb. Sprinkle with powdered sugar, then cut into wedges. Serve with syrup or jam.
This recipe works with with pears, peaches or berries (in place of the apples)
************
For lunch, we had burgers on the grill. Before church, I made the patties. I like to add different things to our burgers. It keeps them interesting.
Today, I added cilantro, red & yellow bell peppers and garlic chunks. They turned out so amazing! A toasted bun, smashed avocado and fresh tomato slices made a filling lunch!
Dinner tonight is chicken enchiladas. No recipe or picture. Sorry.
Have a great day!! Within the next couple days I will share about E's spring social last Friday evening. What a great event!!